Look for the most portable YETI wheeled cooler right now?
We highly recommend you to have an eye on the Tundra Haul, a product which is known for its incredible convenience and permanence. From the very first use, you will get a big impression with its top-notch materials as well as its simple-yet-attractive design.
No need to find a suitable wheel kit for your cooler as this YETI product is constructed with two flexible wheels and a handy handle for easy transportation.
From the beginning, YETI Tundra Haul Cooler has a total of four colors available to choose from: white, ice blue, desert tan, and charcoal.
In-Depth Look into YETI Tundra Haul Cooler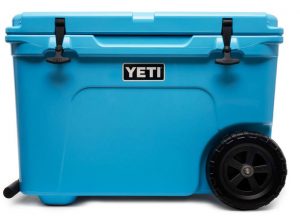 Product Name: YETI Tundra Haul
Product Description:
Just when you thought nothing can be more reliable than YETI Tundra Coolers, quickly have a look for YETI Tundra Haul. Featuring two sturdy wheels and a tow handle, this new model is compact and handy. It not only provides easy transportation but also offers a strong, heavy-duty construction.
By using the NeverFlat wheels, YETI Tundra Haul Cooler is capable of rolling on any terrain easily (grass, rocks, sand, and unpaved paths) with puncture resistance.
The YETI wheeled cooler here holds about 45 cans or 55 pounds of ice alone.
Ice Retention

Quality

Features

Price
Summary
Early of this year, YETI has launched the Tundra Haul as one of its latest contributions to the market in order to meet the need of most consumers.
Although the wheeled cooler market is like a raging competition, YETI Company is able to manufacture and present a cooler that brings a lot of satisfaction to users. As more and more people seek a high mobility cooler for effortless transportation and significant capacity, YETI Tundra Haul with its advanced wheel system will be the best option.
Comments Rating
( reviews)
Pros
A wide lid lip indentation for easy access
Anti-slip rubber feet
Effortless release valve
Lock and tie-down ports
Cons
No drain plug
Very bulky
Leaked easily
Is the Tundra Haul here a high-end cooler or just a standard, cheaply-built one?
The easiest way to figure out is to gain an in-depth look into its features. Thus, the following information is all about this two-wheeled cooler's most prominent features – they will be taken into consideration. Then, we'll point out the advantage and even shortcoming (if any).
1. StrongArm Handle
Nowadays, it's easy to see wheeled coolers designed with standard rope handles or with telescopic ones. However, since YETI didn't want their new product to end up with the old stuff, they decided to create a handle combining the best of both worlds.
That said: the handle on the Tundra Haul cooler is a first-rate aluminum set with padded knobs for comfort. Though this is not the biggest advantage, StrongArm handle can be dragged out and tucked with simplicity. Unlike most heavy wheeled coolers out there, your ankles won't get hurt when moving this beast around.
In addition, the grips were extended outwards so that the cooler can be relocated from one side instead of getting in its path directly.
This handle with an impressive quality helps reduce all the annoying flaws when coming to pulling a large cooler. Nothing to complain about!
2. NeverFlat Wheels
Talking about YETI cooler wheelers, obviously the NeverFlat tires are the most prominent feature compared to other highlights. The wheels never flat allow your cooler to move smoothly on the floor. Whether the terrain is level or tough, you'll have no difficulty when transferring the Tundra Haul.
Overall, YETI packs their ice cooler with the best wheels – light, robust and silent.
Thanks to this incredible feature, this superb cool has an incredible boost for its mobility and durability. The wheel system comes with pretty big sizes; hence, you can your heavy Tundra Haul through uneven surfaces with comfort and convenience.
3. ColdLock Freezer Grade Gasket
Keep in mind that the gasket on this wheeled cooler has a significant role in terms of ice retention. In fact, YETI seems to be very consistent for other parts; nonetheless, they give careful upgrades to the gasket so that the freezer grade can completely block out heat and seals in the cold.
4. T-Rex Lid Latches
If you are a big fan of YETI coolers, then you will know for sure that latches are the primary focus of this company. Since this is the element you interact regularly, it's necessary to inspect it in this review.
Many say that latches play a huge influence to the performance of a cooler; accordingly, YETI ensures the best quality and commits to pack their product with standard rubber T-latches. These T-Rex lid latches are heavy-duty, resilient rubber created with patented technology for durability and top security.
*Note: YETI Tundra Haul is not compatible with the dry goods basket.
Summary
Referring to the portable wheeled coolers, undoubtedly YETI is the leader of the industry because most of their products are favored and trusted. With the launch of the Tundra Haul, this company again hasn't disappointed us.
If you are searching for a great cooler offering a great performance on wheels, then don't ignore this YETI wheeled cooler – aside from new features, it still maintains the company's tradition of high quality and high class.
Since it's worth the investment, purchase one for yourself from today!
most searches:
yeti tundra haul capacity
yeti tundra haul review