You finally got your favorite Yeti cooler.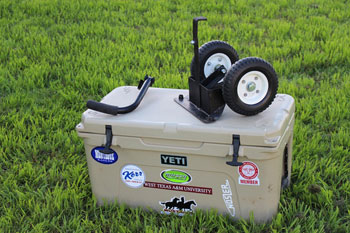 You love everything about it – from its look, features to the way it performs.
However, did you know that your cooler is missing something?
What surprises me the most is: a large number of popular high-end coolers currently on the market aren't equipped with built-in cooler wheels.
Of course you will find some small wheeled coolers on sale.
How about the large, heavy ones?
The problem is – a Yeti cooler with a big size seems impossible to transport, especially when it's filled with ice, beverages, and food. Instead of hurting you back carrying or trying to pull the cooler, now I come with a solution helping you solve this annoying problem.
In this article, let me introduce the best wheel kit for Yeti cooler!
Very simple, you just need to add the wheel system to your existing cooler and, BAMM – you will have a new wheeled cooler.
3 Top-rated Wheel Kits for Your Yeti Cooler
1. Rambler X2LT All Terrain Wheel System
At the first glance, this Rambler wheel cooler system is tough.
Well, it is designed to work compatibly with your Yeti Tundra cooler as well as the 125 model. Each wheel is 8 inches wide and able to move on all terrains (stairs, rocks, sand, or even mud).
No tool or other equipment requirement, assembling Rambler X2LT is quite simple.
Constructed with the telescoping design, the system's handle is connected to the Yeti cooler's molded handles making it convenient and easy to hold or pull. While you stop for resting, the cooler wheels will stay still without displacing.
No need to remove the wheels from the cooler; but if you want to, the option is available.
2. Cooler Wheel Kit with 16″ Solid Rubber Tires
The next choice for your Yeti cooler is the wheel cart with 16-inch solid rubber tires – a product from Sherpa Hunting. Not only work well with the Yeti, this wheel kit is also compatible with all RTIC & KONG coolers.
When purchasing a heavy cooler, it's necessary to look for a handy accessory stopping you from straining your back; and, one of the best choices is the Sherpa wheel kit equipped with 16-inch solid rubber tires.
Installing the axle costs you not much time – it is adjusted quickly and stays in place easily thanks to cam-lock straps. Next, you need to slide the peg-locks into the cooler's foot holes.
Sherpa wheels for Yeti cooler are ideal for boating, pier fishing, and camping. But, in generally, it helps you carry your favorite cooler to anywhere you want to go.
3. Cooler Wheel Kit with 10″ Pneumatic Rubber Tires
Here comes the Sherpa Beach Cooler Wheel Kit for your Yeti cooler.
Rugged and easily attached, this whole package includes 4 wheels, 2 axles, necessary hardware and straps for the installation. It is made from the stainless steel material ensuring a long term of reliable use.
The adjustable axle matches well with Yeti Tundra 50 – 160 quart coolers; therefore, if your cooler is bigger, then quickly contact the manufacturer and provide the info for them.
All four pneumatic tires are 10 inches and sealed wheel bearing for each.
Summary
So, have you picked the most preferred wheel cart for your Yeti cooler yet?
Check out other BEST high performance cooler wheel kits if you don't really like the options above.
Clearly, with just a click, you can easily bring home a convenient wheel kit. By putting the cooler on one of these systems, you will feel much easier to transport cooler on all terrains. Save your back by purchasing one from today.
No more sweating, now you can drag your favorite cooler to anywhere using the built-in handles. The energy is supposed to save for the fun and adventure of your outdoor experience.
Let the wheel kit deal with a heavy cooler!