So, are you looking for a super quiet generator?
Whether it's for camping, RV, or emergency back-up power, there are plenty of options to choose from on the market. Having a portable generator helps you get the job done comfortably; however, the noise during the operation is unpleasant to hear.
The constant loud noise can put you in uneasy situations with your neighbors. Hence, it's time to go for a generator that has a decibel level lower than an average conversation.
Which one is the quietest of all?
Check out our recommendations in the following…
Top 5 Quietest Generators of All Time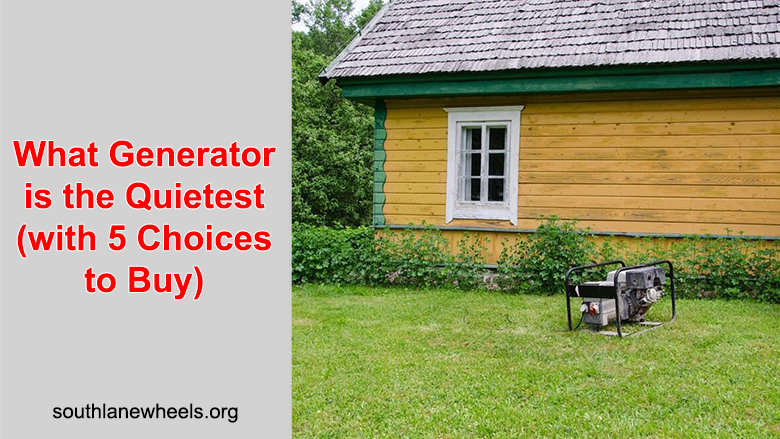 In today's article, we will suggest some generators using engines running with less vibration sounds and having internal soundproofing insulation. Overall, they all are equipped with features helping the machine perform quietly.
See also: How to hook up a portable generator to a house?
1. Honda EU3000iS
Our first option is Honda EU3000iS, a silent powerhouse that guarantees reliable, excellent performance. Whenever the outage happens, this generator provides power to all electric appliances without causing so much noise.
Using the 196cc Honda GX200 engine, the unit generates 3000W surge and 2800W of running power. Consider this generator if you're looking for clean and safe energy for your sensitive equipment. Featuring the Eco-Throttle system, Honda EU3000iS also ensures efficient fuel consumption.
During the operation, the noise level is proven to stay at the minimum.
According to some experts, this is probably the quietest generator from Honda. It impresses most consumers with a straightforward design. User-friendly and easy to work with, the device offers a convenient door for old changes. If you want to purchase a portable generator and your work requires quiet power, then the EU3000iS model is worth considering.
For alternative, you may want to check Duromax XP12000EH.
2. WEN 56235i
If you want to buy an ultra-quiet power source having a compact size for movement and a good price, take a look at WEN 56235i. With a 79cc four-stroke engine, the generator offers 2350W surge and 1900W of running power. Clean and reliable, it's safe for sensitive electronic items, such as TVs, computers, and smart phones.
In case you prefer mobility and convenience, you will definitely love this design. Very lightweight (approx. 39 pounds), you can carry it around when having any outdoor activity.
WEN 56235i's engine speed can adjust and match the electrical equipments automatically because it features the eco-mode switch. As a result, this generator consumes less gasoline and has a long-running time. It's such a great choice if you need to do anything requiring power supply overnight.
There's also an improved oil sprout putting a stop to the oil draining issue.
3. Yamaha EF2000iSv2
Another option in this list is Yamaha EF2000iSv2.
Firstly, this is a quiet inverter generator that comes with a compact design. Fuel efficient, it can supply power to a wide range of appliances steadily. The surge starts at 2000W and running power is about 1600W.
In fact, the EF2000iSv2 model from Yamaha is pretty popular for its sine wave power, claimed to be safe to use with sensitive electronics. Plus, many love the look of this generator – aside from the lightweight, compact design, it also has a built-in handle for easy relocation.
At the first glance, it looks like a suitcase.
In addition, this is an impressive generator because it's packed with industry-defining features, like a low-oil sensor, overload circuit breakers, a gas meter, etc. You can start the engine as well as monitor fuel levels with ease. Most importantly, Small Throttle balances the operation speed, enhances fuel efficiency, and reduces noise.
In short, Yamaha EF2000iSv2 ensures to meet all of your standards.
4. Generac 6866 iQ2000
Among all Generac models, I think my favorite one is definitely the 6866 iQ2000.
If you're considering about this generator, I confirm it's an excellent hi-tech offering. The first reason why you should buy it is: Generac iQ2000 is quiet and clean. Not that it's quietest of the quietest, but the operation is still pretty noiseless compared to other generators.
Easy to use, the interface is user-friendly and simple. Even starters can find and adjust vital settings with no pressure; also, checking the fuel level is easy as all the info is displayed on the dashboard. You can open the engine compartment and fuel cap easily as well – this helps save time of refueling, repairing, and cleaning your generator.
In case you prefer a mobile and convenient generator over a raw power input, this choice will give you the best experience whenever using it. You must purchase Generac iQ2000 if you often hold outdoor events or parties, and it also works perfectly as a home back-up.
5. Westinghouse iGen2200
The last choice in this list belongs to Westinghouse iGen2200.
This generator is built with a three horsepower engine making it deliver 2200W as a starting output and 1800W as a running output. You'll spot a fuel efficiency mode switch allowing the generator itself to adjust and balance the engine speed as required.
Westinghouse iGen2200 is perfect for all household as it's less fuel consumption, less noise, and it can operate for a long duration.
If you want something with a solid design and providing a variety of safety features, such as a double insulated enclosure, asymmetrical fans, and dual quiet mufflers, you can't go wrong with this generator. Its features can cool down the engine, limit the level of noise during operation, and enhance the power when necessary.
Your appliances won't suffer from electrical instability with the back-up of the iGen2200 model from Westinghouse.
Take a look at this video to make your generator less noisy:
Summary
So, what generator is the quietest on the market?
We already came up with top 5 options above, and it's up to your to consider and make decision for which generator you should get for your home.
Before purchasing a quietest generator, it's a must to ask yourself what kind of setting you plan to use it. Indeed, apart from the noise level, wattage power is also another important factor. Sometimes you don't need a quietest generator; it's okay to go with a model which is a bit louder but offers much power.
At the end of the day, it depends on your preference.