In today's modern world, most generators are lightweight and portable.
Of course not all of them!
There are still some pretty weighty. Many companies then add wheels on the bulky machine for portability. However, you cannot stick with that option like forever.
This is when the wheel kit makes its appearance – the flexible accessory assures to make your generator more manageable. Knowing the need of nearly all generator owners, more and more wheel kits are introduced on the market.
With lots of choices, how to get a wheel kit for generator suitable to your needs?
Learn more about some best wheel kits for your portable generators and see if you can find one that you have been waiting on.
Top 4 Generator Wheel Kits of 2018
1. All Terrain Wheel Kit – Our Best Choice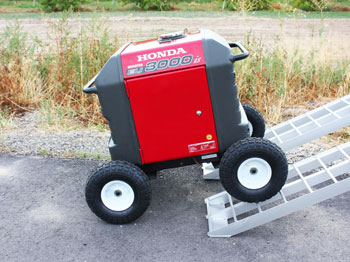 If you look for a versatile wheel kit for your Honda EU3000iS generator, then maybe the All Terrain Wheel Kit from Autoworks should be taken into consideration.
With the heavy duty bearings and 10-inch solid never flat tires, this versatile wheel kit can handle the weight of your generator under any condition. The whole system includes the necessary mounting hardware, and 4 axle end caps. Installing the wheels to your generator is also simple thanks to the detailed instructions.
No need to lift the generator, the wheel kit will help the transfer across mud, sand, or into the back of your truck much easier.
2. Champion Power Equipment Mobility Kit
Not taking too much time, the wheel kit from Champion Power Equipment is very easy to install. The package has two 8-inch never flat wheels and a steel axle. You can fold the handle away when not in use as well as take advantage of the kit's support leg to reduce vibrations.
The product is designed for Champion generators 2800-4750 watts, especially the 3500W model.
Champion supports 1 year limited warranty for Champion Power Equipment Mobility Kit.
3. DuroStar Wheel Kit
The DuroStar Wheel Kit is tailored exclusively for the DS4000S.
The whole package includes two solid heavy duty wheels (9 inches), one fold-away handle, two support legs with vibration mounts, other necessary tools and hardware for the installation, and the instruction manual. Easy and simple to set up, the generator will stay in place once put on the wheels, much convenient to move.
This kit comes with an affordable price.
4. Honda Generator Handi Cart Kit
Make your generator portable with Honda Generator Handi Cart Kit – a must-have accessory working well with both the EU2000i and EU2000 models.
Using genuine Honda parts, this handy wheeled cart includes two wheels plus a transport strap. These smooth-rolling never-flat tires will help you transport the generator from place to place with no effort – this means you don't have to lift the bulky machine anymore.
The kit is pretty lightweight, yet strong and functional.
Here is an unboxing video:
Summary
I've given the list of best wheel kits for generator for you in order to help you select your favorite without wasting too much time.
Surely there are still plenty of good generator wheel kits for your consideration. But, before making a decision to purchase, keep in mind to research a bit.
In case your generator has no wheels and you want to save money, then it's a good idea to check out the DIY generator wheel kit.
most searches:
how to put tyres to a generator that does not come with it
best wheeled portable generator
honda generator eu2000i