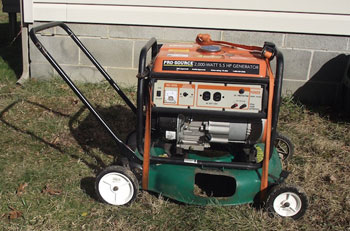 You must agree with me that a wheel kit is very necessary for moving your generator.
These days, it's not hard to purchase this accessory.
With just a simple search, you will easily find the most ideal, handy wheel kit to maneuver the bulky equipment.
I do suggest you to get one to make life a little bit more convenient.
There are some reputable brands of manufacturing the wheel kits that you should consider such as Champion, DuroStar, Honda, and Autoworks.
Sadly, none of them offers the wheel kit for cooler, if you want to know.
In case your generator has no attached wheels and you also don't want to spend money on the wheel kit as well, then I have an idea for you:
Have you ever thought about DIY generator wheel kit?
In this article, I am going to give you the tutorial of how to add wheels to your portable generator for absolutely free. Of course, the key of this instruction is to make use of what you can find at home.
Benefits of a Generator Wheel Kit
What is a wheel kit for generator useful for?
Even the most portable generators are still a bit weighty for you to carry, especially when you fill it up with fuel. Thus, it's much better to equip one wheel kit for relocating your generator.
Who doesn't want to make life easier, right?
A typical wheel kit includes two wheels, an axle plus all bolts, nuts, and other items needed for the assemblage. Conveniently, some wheel carts will come already installed hence you just need to place your generator on them whenever in use.
How to Install Wheel Kit to Your Generator?
Most wheel kits are designed to be user-friendly and easy to install.
With some, you only need to set the generator on a wagon; while others, like the wheel kit series from Champion, is packed with individual pieces and parts which you must attach the wheel axel and wheels to the generator for the setup. Finally, add the handle included to move your generator much lighter and easier.
Remember that each generator wheel kit has the different installation manual; in other words, all companies offer their own recommendation. Therefore, you need to follow the step-by-step instructions for the specific wheel cart that you've chosen.
If you look for more information about generators and the appropriate type of wheel kits, the best way is to send the email to the manufacturer.
Or, simply check out all the wheel kits available on Amazon and see which one will work for you.
How to Create Your Own Wheel Kit?
At first glance, this accessory looks like it does not cost much; but, when I checked the price online, most of them cost around $40 to $60.
That's the reason I come up with an inexpensive solution.
Firstly, I remove the engine from an old mower and keep only the handle's lower section connected to the mower frame, such a great space to place your extension cord.
Utilizing two ratchet straps and tying down the generator to the mower frame.
By doing that, you now can easily remove the machine off whenever it is needed to put in the back of your truck.
Next, you may consider adding a ply wood deck or a box style base on the mower in case using it for other projects
This setup is easy to do and assists you in moving the generator stably and smoothly. Also, it can prevent your machine from encountering the wet or snowy ground.
For a detailed look, check out this video:
I don't want to brag but the idea of making your own wheel kit is brilliant.
I used two air-filled tires for my portable generator relocation kit – these wheels are extremely easy to move on rough frozen ground; in addition, it much more convenient and effortless when transporting the generator on a flat place, like just rolling it out of the garage into the driveway.
Save some money on the generator wheel kit!
most searches:
diy generator wheels
dyi generator wheels
adding wheels to homelite generator
build wheel kit for generatot
genarator weel down
generator universal wheel kit
homemade generator wheel kit
how to put wheels on a portable generator