What is the cooler?
Even the name itself speaks for itself – an ice box allows us to keep food and drink cold for days. Without a cooler, moving from place to place with the frequent change of the temperature outside during your picnic trip will cause food spoilage.
Well, food products need to be stored in a stable temperature, and only the cooler can solve that issue.
The thing is; there are plenty of coolers that come with different weights, not to mention the added weight of ice cold beverages. Obviously, you cannot carry, lift, or drag a too heavy cooler with only bare hands.
Is there any possible way to make the cooler more manageable?
Well, that problem can be solved easily with the support of the wheel.
Now simply purchase and attach the wheels to your cooler for portability.
So, in this article, I'm going to do a brief introduction of the best wheel kit for cooler which can help you make choice effortlessly.
Rambler Wheels vs. Badger Wheels
1. Rambler Wheels X2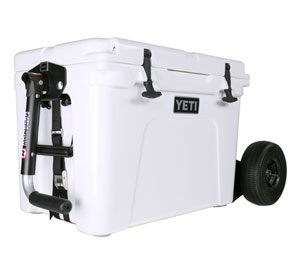 Firstly, the assembly of this product is very user-friendly – it is ready for the road after taking only 5 minutes for the incorporation to my Yeti cooler. Overall, the X2 system's wheels when moving the cooler to and fro are fantastic.
I often use Rambler Wheels X2 on my camping trips, and the performance of this system is functional, strong and pretty impressive.
Its handle is a dual-sided telescoping handle comfortable for holding and allowing you to adjust when needed. The large all terrain wheels can be dragged over any terrain (rocks, sand, mud, or stairs).
The small issues with Rambler X2 are – it is heavy; in addition, the wheels jut out about 9 inches one side of the cooler causing an issue in tight quarters. Fortunately, the wheels can be stored inside the cooler when not in use.
This product offers a 30 day money back guarantee.
2. Badger Wheels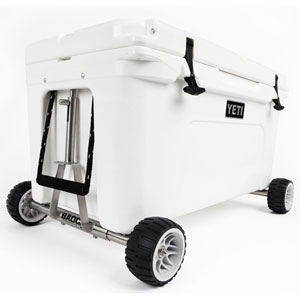 Here comes my favorite – the double axel 4-wheel version.
With two Badger Wheels axles, now 100% the weight of your cooler will be on the wheels; and, you can drag it to anywhere conveniently using the handle (not attached to the system). The 4-wheel kit shines brightest during long distance trips which you need to carry the heavy cooler.
Badger Wheels provides its customers a 30 day money-back guarantee with a lifetime warranty. Well, it seems like this company has the better policy.
Summary
Sadly, neither of RW nor BW offers the wheel kit for generator .
I must say that, when it comes to the best wheel kit for cooler, both BW and RW make a great option as they deal with the weighty problem very well. Yet, after my experiment with these two systems, I would give the advantage to Rambler Wheels.
What do you think?
Leave your comment below!