Do you need repairs for your golf cart?
Aside from regular routine maintenance, this small vehicle does require tire replacement.
Shopping for a set of golf cart wheels and tires is very tedious unless you're an enthusiast of this field. This is surely not an easy task! Plenty of choices are sold on the market; however, you'll hardly make a decision if having no clue about this kind of product.
Searching through lists of wheel manufacturers and specs seems to be a waste of time; thus, we're going to inform you the review of best 12-inch golf cart wheels and tires in this article.
Hopefully, the given information here will help you find the perfect wheel and tire replacement for your golf cart.
Top 12" Golf Cart Wheels and Tires for Sale
1. Black Golf Cart Tire 12" Combo
Reasons to buy: As the first choice on this list, the 12" Vampire Machined Black Golf Cart Tire Combo is reliable as it's under the production of a 5-star rated manufacturer which has launched some of the best in the golf cart wheel and tire industry.
Golf Cart Tire Supply ensures these particular tires can be used as soon as you open the package. The whole combo is mounted on wheel and aired up to proper pressure; therefore, there's no need to add more air. Easy to assemble, users can effortlessly install them on the golf cart without purchasing a lift kit. Not only designed for quality, these 12" machined black tires are also aesthetic. Belonging to the Vampire series, the frame's spokes overall look like fangs giving off a sharp and aggressive appearance. In addition, all are chrome plated with solid center caps for sophistication.
PROS
Ready to use
Manufactured from a trustworthy brand
Unique design
High quality tire replacement with a long lifespan
Sharp and sophisticated look
2. Vampire Gloss Black Aluminum 12" Wheels
Reasons to buy: These aluminum wheels in the Vampire series will give your golf cart a great look and enable to move on rough terrains. A lift kit is not necessary when assembling this product.
If you expect for something aggressive and high end, then our recommendation is the 12" Vampire Gloss Black Aluminum Wheels. Referring to the construction, each provides maximum stability on the majority of a whole surface. The tires are professionally mounted on the wheels and have the proper amount of air. Unlike those cooler wheel kits, simply unpack and the combo is ready to go without the lift kit. Moreover, the tire with an approved tread design comes with a sure grip and also avoids being worn out.
This is a perfect selection for those looking for the golf cart wheels that can withstand a lot of pressure.
PROS
Good-looking aluminum wheels
A whole combo includes 4 wheels and tires
All-terrain tires are as durable as your car's tires
Perform well on dirt, grass, and gravel
CONS
Taller than other products
3. Terminator Black Golf Cart 12" Wheels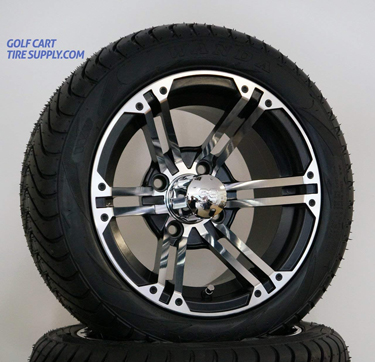 Reasons to buy: The Terminator combo includes big and beautiful wheels and tires showing a smooth ride on all types of surfaces. All the 12" machined wheels are wrapped up nicely in low profile tires.
When it comes to low profile tires, this product guarantees they come with the most high-quality tread. The ride-height and general capacity is perfect for a low profile design. At a glance, the particular golf cart tires from Terminator have a cool, sleek look and are not as bulky as other traditional models. Designed for 10" and 12" wheels, they are street legal and DOT approved. Once being attached to the appropriate wheels, the tires deliver excellent performance and durability while giving off a unique appearance.
Known as one of the most affordable wheels in the industry, they're worth considering.
PROS
Designed for quality and durability
Affordable price
All-terrain tires
Low profile design with one of the best treads
No bulky at all
CONS
No warranty from the brand
4. MODZ Assault Black Ball Mill 12" Wheels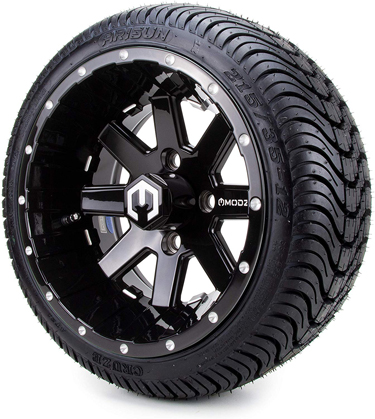 Reasons to buy: These MODZ tires are definitely a reliable choice if you want to upgrade the look and bring amazing performance to your golf cart. Heavy duty, they can work well on tough surfaces.
Of all best 12" golf cart wheels and tires, the one from MODZ assures the reliability and durability. As a quality tire on the list, this Vampire gunmetal design is ultra-smooth and relatively lightweight; featuring a long-wearing rubber compound, it will be protected from being worn out or torn out. Aside from the quality, the black wheel kit can also withstand the test of time. Feel safe to use this product as it guarantees ultimate permanence and strength. Keep in mind that rubbing could happen if it's installed to incompatible golf cart.
PROS
Sturdy and reliable cart tire
DOT approved
Durable tread and improved drive quality
Appealing gunmetal frame design
CONS
No warranty from the brand
5. Golf Cart 12" Vampire SS Black Tires
Reasons to buy: Here is an awesome finishing touch to your upgraded golf cart. These tires are designed for quality and safety assurance, plus having a sharp and unique design.
This 12" Vampire SS Black Tires will be perfect for your golf cart wheels replacement. Not just having a high-end, tough, quality, and good-looking appearance, the whole combo is also aired up and ready to be installed without costing much time. Constructed using an exclusive thread, the manufacturer guarantees incredible protection whenever the tires are in use. In addition, the Multi Spoke styling feature helps enhancing the vision of some particular golf cart such as EZGO or Yamaha. Compared to other products on the market, this one is not too aesthetically pleasing yet still close to the 5-star rate.
PROS
DOT rated ensures the tires' safety and quality
Great protection
Best priced item
No lift kit needed
CONS
Low profile design makes the ride less smooth on rough terrains
6. Vampire All Terrain Golf Cart 12" Tires
Reasons to buy: This golf cart tire is designed and manufactured for quality as well as safety. The whole package is lightweight and delivers an ultra smooth riding performance.
Here comes a trustworthy product that fits perfectly with any golf cart, trailer hub, or UTV; that's, Vampire All Terrain 12" Tires. One of the best features making it show up in our list is the fact that it is completely inflated and comes with the flexible rim. The classic tread pattern offers a smooth rolling experience when riding your standard-sized golf cart. As per the load rating, the tires from Vampire series can handle the weight of around 800 lbs. Super fast and easy to set up, they are filled up with the proper air pressure for instant use.
PROS
The tires ride perfectly
Excellent quality
DOT approved
Attractive and sharp looking
Manufactured from a reliable, reputable brand
CONS
Lift kit is needed
Chrome lug nuts are not as expected
7. MODZ Ambush Blue Low Profile 12" Tires
Reasons to buy: It's time to have a discussion about this durable golf cart 12" tire. Such a perfect option for all golf cart lovers as the kit can move on sand, grass, and mud without interruption.
There are two main points to consider:
Firstly, the tread is a heavily important part when it comes to tires. Since this MODZ model is made for off-roading, the treat pattern comes with a highly durable design and enables to bear the test of time. As you can see from the picture, it is extremely indented for the aim of not getting stuck on uneven terrains. The next prominent about this product is its quality design – the tire looks bulkier and more durable as it needs to support heavy buggies and other off-road vehicles.
PROS
Quality tread pattern
Well priced for a set of 4 tires
Designed for specialty cart vehicles
Reliable golf cart wheels ensuring durability
CONS
Tires might wear out sooner if riding over rough surfaces regularly
8. RALLY Gunmetal 12" Golf Cart Wheels
Reasons to buy: Give your cart the ability to be tough and flexible in every journey. The tires can handle paved streets with grace as well as move through new terrains (dirt, grass, and more) smoothly.
Look for a 12" wheel and all terrain tire combo but don't want to waste the extra cash for a lift kit? If so, purchase this product from today! The high-class design DOT tires with rally gunmetal aluminum wheels give your cart the ability to be durable and tough through a long adventure on different types of terrains. No lift kit needed for most vehicles (golf carts, UTV, ATV, or trailer hub), the assembly can be done without any pressure. DOT approved which means the tread performs incredibly both on and off road.
PROS
Stunning looks
Perfect rims for your golf cart
Easy to mount and install
Fit incredibly and not create a sound
High-quality aluminum wheels for a long lifespan
CONS
Only the 12" size
The center cap rattles on the rear sometimes
9. Madjax Nitro Machined Black 12" Wheels
Reasons to buy: Another superb golf cart wheels that will satisfy your need excellently is this product. Reliable and authentic, the Madjax Nitro Machined Black 12" Wheels are all about safety and durability.
This golf cart wheel and tire combo is mounted for absolutely free. After a quick assembly, the product is ready to bolt on your vehicle without a lift kit. There's a multi-spoke rim and a red chrome finish designed to enhance the look, making it stealthier and more physically appealing. Not just the style, but the tires also provide the durability and safety – their maximum holding capacity is amazing overall. With a center cap having lug nuts, the design of these particular tires including unique wheels is pretty reliable and capable of working for good longevity.
PROS
Tires come fully mounted
Good traction for smooth riding on paved surfaces
No lift kit required
Work well with various cart vehicles
Reliable, high-grade materials
10. ARISUN 12" DOT Low Profile Tires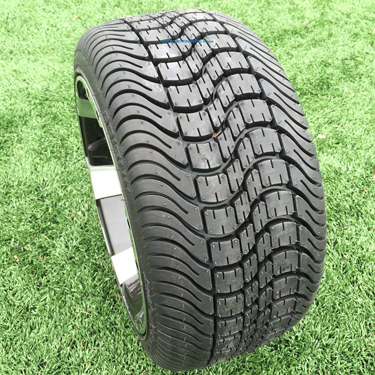 Reasons to buy: This combo comes with a set of 4 mounted tires assemblies that can be use immediately once unpacked. The run-flat design helps its performance not get affected in use.
If you are seeking a free maintenance flexible tire, then the brand-new product from ARISUN is surely the best choice for you. With a flat run design, even punctures cannot cause any influence to the riding performance. The low profile tire tread is considered to be perfect for moving on turf and paved streets; also, it is an excellent for the bumpy surfaces as well. DOT approved like other tires, this one fits amazingly on 12" golf cart wheels (not included in the combo here).
PROS
Easy setup and always ready to use
Durable rubber tires
Reasonable price
Perfect replacement tire for even the tractors
Loaded weight up to 800 lbs
CONS
Bulky design
Wheels not included
Final Words
When considering buying the best 12-inch golf cart wheels and tires, you're advised to have a glance at the price also aside from the quality reviews.
With this kind of product, it's better to begin with the stability, the amount of traction, as well as the support you're likely to gain from a certain tire and wheel. There are plenty of golf cart tires for sale these days – all are available in different designs, colors, and sizes. Thus, the research process is very important.
If you feel tired of some tires easily wearing out after just a short time, well then have a glimpse at our best choices above.